-->
11. Coffee in Greenbelt, or if you have some cash to spare, might as well go shopping. I have included Greenbelt since its one commercial development that integrates environmental features through the use of wide and open spaces and gardens.
12. Lunch at Greens Vegetarian Restaurant, 92 Scout Castor St., South Triangle, Quezon City. Even if you are not a vegetarian you will love this place. Their menu consists of salads, pasta and vegetarian version of our classic meat favorites such as Sisig and Pork Barbecue.
13. Watch a performance at the Cultural Center of the Philippines. It has been the home to the performing arts of the Philippines since its construction in the 70's. If you're lucky, you can also catch an art exhibit or just read about Philippine Art in the Library. The best time to go is on February in time for the Arts Month Celebration.
14. Ride the MRT from Taft to North EDSA. I don't really recommend this to tourist, but if you're brave enough, this is one of the ways you can literally immerse yourself to Urban Filipino Culture. An alternative would be a jeepney ride, but I can't think of a lung friendly jeepney route in Metro Manila. I suggest that you ride the Jeepney in the provinces.
15. Explore Cubao Expo. Too bad some of my favorite stores have closed down, but still, those that remain, have kept its bohemian charm. You can catch a concert on some nights, but the galleries, thrift shops, novelty shops; restaurants and bars are still there to cater to your interest.
16. Visit and Donate to the restoration of the Bamboo Organ in Las Pinas. This is something that I still have to do myself. I've been passing Las Pinas many times but was not able to actually take time to see the city's musical treasure.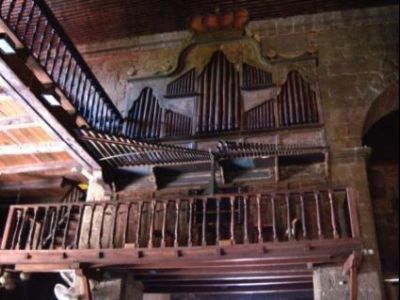 17. Dine at Cafe Juanita in Pasig. If you think that being an obsessive compulsive hoarding has no benefit, think again. This restaurant showcases the owner's collection of anything old and interesting. Their Asian fusion menu is complemented by the eclectic Asian interior. Cafe Augusto nearby is their Turo Turo version with the same interiors but less expensive.
18. Try your luck at the Casino in Resorts World Manila. I am not really a gambler nor encouraging people to be one but its something I want to try at least once.
19. Spa at Wensha. If you're a traveler and only have 6 hours to stay in Manila, head for Wensha Spa near Roxas Boulevard. For less than a thousand pesos, you get a 6-hour accommodation in their massage rooms. They also have a wet area if you want to detoxify and freshen up plus the inclusive buffet.
20. Stroll along the Makati Central Business District and the Ayala Museum. This gives you the opportunity to see the progressive side of the city, and while you're at it, visit the Ayala Museum for their rare collection of Art and works of up and coming artists.